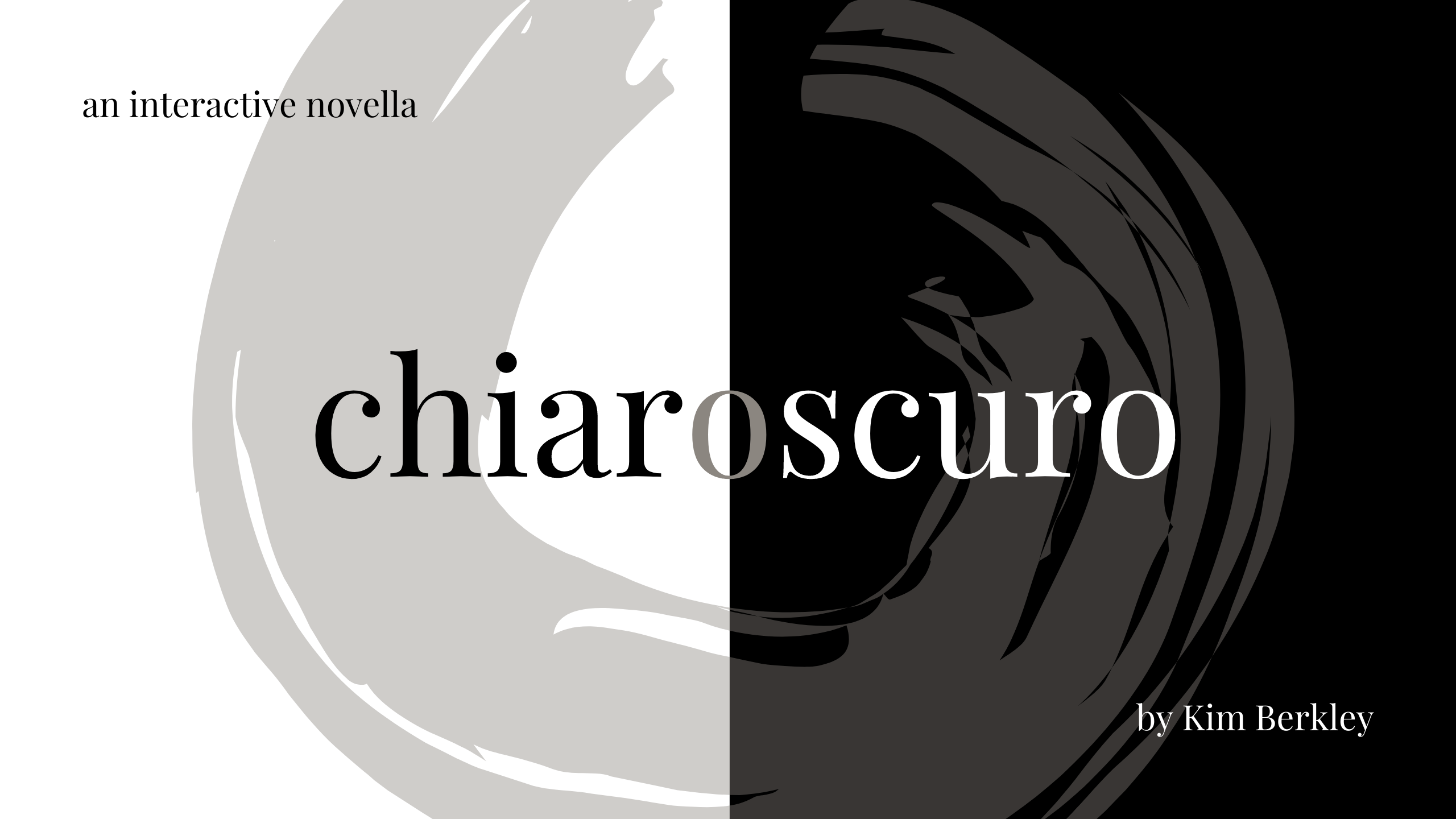 chiaroscuro
Devlog #9: One Month Later—A Postmortem
---
Well, folks, it's been a month since I published chiaroscuro on itch. Four weeks full of lessons and little triumphs, disappointments and recoveries. I've just uploaded a very subtly updated new version of the game—one in which a few typos are fixed, and some Italian is tweaked or removed, because (unsurprisingly) I missed a few beats there, not being fluent in the language myself.
Thank you to everyone who helped make the game even better after the fact—and of course, much love as always to the people who were there from the beginning. :)
This will likely be my final post to this devlog, as the game is done and released, and I don't expect any more changes in the future. It's time to move on to other projects—and hopefully finally finish some that were in the works even before this one—but before we do, I wanted to give you all one last peek behind the curtain. This one's mostly for my fellow IF authors and gamedevs, but if you just really enjoyed the game, you might enjoy learning a thing or two about how it was made—in either case, thanks for reading. :)

the process: how chiaroscuro came to be
I've talked enough about where I got some of my ideas for the game from. Instead, let's talk shop.
Originally, I'd hoped chiaroscuro would be a collaborative visual novel project with a friend of mine (not Odd Lazdo or Rhaez Loean—another artist friend of mine, haha), but the more I worked on the idea, and the more her schedule filled up, the clearer it became that chiaroscuro was not meant to be a visual feast.
I began with research—lots of it—into Italian art, culture, geography, and food. I also dipped my toes back into my ongoing interest in psychology, art history, and folklore. I took notes in notebooks and in Google docs, and kept everything as organized as I could for future reference.
I plotted chiaroscuro on paper first, then checked my work with what I called a "skeleton outline" in Twine—this version was just to help me visualize the overall structure of the game and its multiple routes. I had very minimal notes in each Twine card about what locations would be visited, what the protagonist may (or may not) get to sketch in each chapter, memories that might come up, and so on.

Then I got down to drafting the manuscript. I'm not a fancy girl; I just used Google docs for this. I especially like using the Table of Contents feature to make skipping around during the editing phase easier. I wrote a first draft, then applied heavy edits to create a second before passing it on to my favorite beta reader. It was around this time that I also started actually announcing the game and talking about it on social media.

After more revisions following her feedback, it was time to plug the manuscript into Twine. I experimented with a few options before choosing Twine Chapbook; the newness of it compared to classics like SugarCube or Harlowe daunted me at first, but I couldn't resist the look of Chapbook—it makes my little interactive novella actually feel like a novella. Because it's a fairly simple story, with fairly simple mechanics (and Twine itself is pretty straightforward, even Chapbook), it wasn't too difficult a task—mostly just monotonous, though I do recall having a heck of a time with the different colored links, for some reason.
After everything was plugged in and ostensibly in working order, I began testing. I ran the alphas myself, then reached out to friends and family as well as strangers via Facebook and Instagram ads to amass a tiny but immeasurably helpful army of beta testers. Everyone got a copy of the game via email, along with a link to a short feedback survey.
Once all the feedback was in, it was time for one last round of edits. And then came the odd limbo between game completion and game release that happens when you (a) don't crunch and (b) try to choose your release date wisely. The holidays felt like a poor choice, for a number of reasons, so despite desperately wanting to publish ASAP, I made myself wait until mid-January.
spreading the word about chiaroscuro
I announced chiaroscuro only once I had a complete draft, one I knew I could take all the way from edits to release. I was wary of making promises I might not be able to keep, and after all, there was a pandemic afoot.
Once the cat was out of the bag, I talked about it in public—minimally. I shared an update here and there, got some friends talking about it, but didn't push too hard. (Probably not hard enough, or early enough, but more on that later.) I focused most of my allotted time for the project on the project itself; I didn't worry about marketing much until just a few months before release.
I leaned heavily on quote graphics and that one teaser trailer I made, as I had no fancy concept art or character portraits to show for this one. I'm still in the process of releasing some of those graphics. I also planned regular devlog updates that would culminate in this final postmortem.
I also took advantage of a few unplanned opportunities—one of my beta testers happened to be the editor in chief of a literary magazine, one she not only encouraged me to submit to but also to advertise my game in. I even got a quick word in on one of the magazine's podcast episodes.

Release day was the biggest day for this type of work. I posted to every forum and platform I could think of. I registered my game with IF archives and even put a paid ad out, despite the game being free. I made (slightly awkward, but honest) Instagram stories announcing the release, and reminded my newsletter subscribers that the promised day had finally come.
looking back, how did chiaroscuro do?
If there's one thing my first game, The Harbinger's Head, taught me, it's that yes—release day is the biggest day for downloads and sales. However, the end of the day is not The End of All Things. Sometimes, a game catches on after the fact, for one reason or another. And sometimes, you just get a steady trickle of people over the course of months, even years.
Neither of these alternatives is bad; they're just a little less exciting, at least until you recognize them for what they are. And what they are is a sign—that your voice is being heard, and sometimes, it's reaching the people who want and need to hear it.
I won't share the specific numbers, but looking back, I can admit that I set my goals for chiaroscuro a little high. It's a teeny tiny niche game in a teeny tiny niche corner of the industry—IF games on the whole struggle to gain traction, and even internationally beloved classics aren't as well known as a breakout FPS hit or a new title in a beloved AAA franchise. So it shouldn't have come as a surprise, then, that the download count didn't exactly skyrocket up into the atmosphere.
Even so, I am grateful to everyone who has tried it out, and especially to those who have taken the time to tell me about their experience. Overall, feedback—both during development and even now—has been generally positive, and that warms my heart. I would much rather my game find its way to a hundred people whose lives are a little richer for playing it than a hundred thousand people who don't "get it." This was never a game that was meant to make mine a household name; it was a passion project first, a nice addition to my portfolio second, and a learning experience third.

I do think some mistakes were made, mostly regarding the marketing. (You'd think I'd know better, having worked in marketing successfully for several years, but it's like I have a blind spot when it comes to doing it for myself.) I should have announced it sooner. I should have talked about it more in advance, not from a perspective of begging people for attention, but from a place of recognizing that helping people find games they love is a good thing to do—and that my own project could easily be one such game.

I also want to be more active in the writing and gaming communities in general. It's hard, being a super-introvert, but it's not impossible. And I'd love to help others make cool things and get the word out about them, just as a few kind people did for me.
so what's next?
As many of you already know, I am still doing what I can to get The Dragon's Last Flight finished, but at the moment, the rate of progress really isn't up to me. We'll have to wait and see on that front. (To my TDLF fans, thank you for your infinite patience.)
I've also got one potential project I can't talk about yet, and another I've been working on that I hope to announce very soon. Not all of my pipeline projects are interactive fiction or even visual novels, and not all of them will be releasing on itch—so if you want updates (and other free stuff from time to time), be sure to sign up for my newsletter! You can also follow me on Facebook, Instagram, or Twitter.

Take care, and thanks again for reading. :)